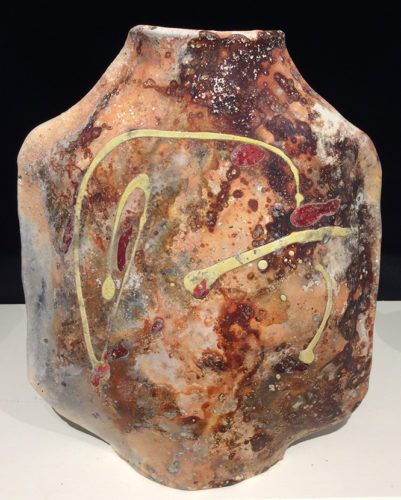 For the month of November 2016, the La Mano gallery is featuring recent work of ceramic artist Peggy Clarke.
This unique collection highlights a process that is rarely seen in New York City—work that has been placed directly into a large pit in the earth, covered with organic and combustible materials and then fired for several hours. With flames rising as high as 6 feet from the ground, all pieces are surrounded by the hot fire. A cover is slowly lowered over the fire, creating an atmosphere of reduced oxygen during which the organic material creates lasting impressions on the pottery.
Nitrogen, potassium and sodium—from unusual sources like dried banana peels, avocado shells, coffee grounds, and seaweed—leave unpredictable and distinct imprints on the work. These natural chemicals are strategically layered with the wood throughout the pit and leave beautiful patterns of color and a soft sheen on the work.
Please stop by and have a look at the results of this creative process. All work on display in the gallery is available for sale.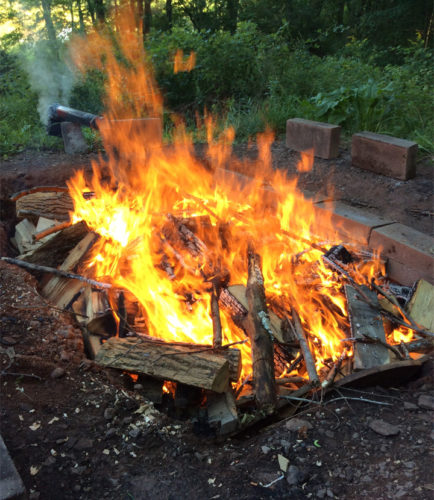 Concerned about the environment and other critical issues that are at risk given the recent election, the artist will donate one half of all purchases from this show to the Hudson River Sloop Clearwater, Inc. This organization has been at the forefront of the environmental movement as a champion of the Hudson River, working to pass landmark legislation like the Clean Water Act, and providing innovative educational programs and environmental advocacy.